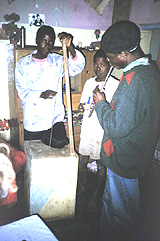 Frage 1:
1. The evolution of modern music in southern Africa
An importart stage was Kwela Khwela (Zulu language), it means: to climb, ascend, mount.
The musical application of the word can be traced back to the "bombing" vocal style in South Africa.
Basis of the KweIa groups were American dance bands playing commercial swing, jive
and since 1955 rock 'n' roll. The flute set in the Kwela bands represented the saxophon set.
Why did Whites like Kwela? There are musical and non-musical reasons.
Kwela gradually disappeared in South Africa about 1962/1963.
2. Expansion of the southern music forms
Though forgotten in the area of origin, Kwela music still flourishes on the periphery
of its distribution area, particulary in Malawi, where it has assumed new forms.
The political entity of a large territory in the 1950's comprising Zambia, Malawi and
Zimbabwe was one of the causes why Kwela has a characteristic distribution area which is delineated by the combined borders of
South Africa and the former Federation of Rhodesia and Nyasaland...


Frage 2:
...Another musical trend which was to influence mbaqanga, was kwela or pennywhistle jive, which grew in popularity during the 1940's and 1950's. An Alexandria township youth Willard Cele inspired a legion of followers with his unique technique, and the 1951 movie The Magic Garden also publicized the instrument. By 1954, when one of pennywhistle's main legend Spokes Mashiyane recorded a #1 hit, "Ace Blues", pennwywhistle was a youth rage. (Kwela, "climb up", takes its name from the term many of these youngsters heard shouted at them by police officers herding them into paddywagons). Spokes, and fellow pennywhistle hotshot Lemmy "Special" Moboso (who plays today alongside Thomas Phale with the Soul Brothers), would later turn to saxophone in place of pennwhistle, while retaining the light, jaunty melodic lines which were characeristic of kwela.

Pennwhistle jive, was just one of the "jive" varieties to appear during this period. There was sax jive, flute jive, and vocal varieties, which became collectively know as mbaqanga. This term, which means "dumpling" in Zulu, infers the populist, downhome quality of the music. The vocal aspects of mbaqanga grew during the mid and late 1950's with groups such as the Manhattan Brothers and the Skylarks, the latter formed by two young women Miram Makeba and Letta Mbulu. Makeba achieved acclaim for her lead role in the late 1950's musical King Kong (which also shed the limelight on a number of other talent), and her part in the anti-apartheid film Come Back Africa which catapulted her to international fame. She introduced overseas audiences to African classics like "The Click Song" and "Pata Pata". When South Africa canceled her passport in the 1960's, she remained abroad in the U.S. and Guinea, marrying American black activist Stokely Carmichael and becoming the symbol of "Mama Africa" for Africans worldwide...


Frage 3:
...Miriam Makeba was born in Johannesburg, South Africa on March 4, 1932. Her mother was a sangoma, a mystical traditional healer of the Xhosa tribe. She was raised under the reign of apartheid and spent six months of her first year of life in a jail with her mother. Yet Makeba has used life's struggles as an inspiration, to continue seeking change. "Given a choice, I would have certainly selected to be what I am: one of the oppressed instead of one of the oppressors," wrote Makeba in her 1988 autobiography Makeba - My Story...